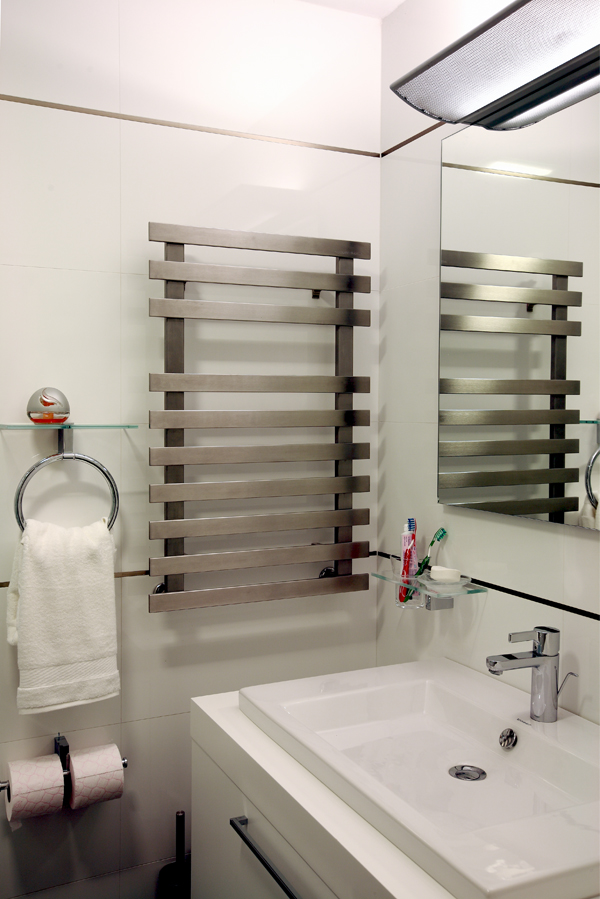 Small Bathroom Radiators
Modern heated towel rails come in small sizes but are powerful enough to serve as the sole heat source in a small bathroom. Small bathroom radiators offer the luxury of stepping out of the shower and wrapping up in a crisp, warmed towel, as well as providing enough heat for the room.
There are a number of available towel rails that are suitable to be in a small bathroom. These small bathroom radiators will free up more wall space in the other areas of the room especially when hung over the bath.
Some space-saving tips
Designing the interior of a small bathroom requires careful planning and clever design tricks. Limited floor and wall space can make finding a suitable place for your heat source bvery tricky.
Radiators are basically best placed under the window. But then, it's unlikely that you'll be able to use this wall for fittings or storage. So, to compromise, you could fit a small bathroom radiator about the bath on the wall farthest from the taps.
You can also fit a compact heated towel radiator at waist height on the wall. This will free up some space for storage below it. Another wise trick is to use the space behind the door. If you chose a tall but narrow radiator, behind the door is the perfect place for it to be placed.
There are a variety of space-saving technique you can apply. But while there are so many options to save space, they may affect your layout if they need to be installed a distance away from other fittings. It's best to consider where the heat system is going to be placed before you buy a new heater for your bathroom.
Bathrooms are often the smallest room in the house. And this is the reason why the layout and some space-saving design tricks can help you make the best use out of them. Now for heating, this is where small bathroom radiators come in.
Fittings for smaller bathrooms must be chosen carefully to maximize the space available. There are a number of options that will suit a range of budgets and styles.